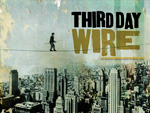 Third Day Live, at the Spokane Arena, Spokane Washington May 20th,2004 with Toby Mac and Warren Barfield.
Third day is: Tai Anderson on Bass guitar and vocals, Brad Avery on guitar and vocals, David Carr on drums and vocals, Mark Lee on guitars and vocals; and Mac Powell on Lead Vocals and Acoustic guitar. Five guys who love the Lord and sing their hearts out for him.
WOW! Where to begin? The passion that Mac and Third Day, Toby Mac, and Warren Barfield have for their music is huge. That same passion is heard in their commitment to the message of Christ. At the concert, it was so much more than entertainment. From worship to concern for your neighbor (HIV/AIDS in Africa) to letting the crowd know who and what the bands are about, doing the will of our Father.
At the concert, Warren started things off and in the many years of going to these things I have never, and I mean never seen anyone hammer a guitar as hard as he does and make it sound the way he does. It was hard to believe all that music was from one guitar. Being not very familiar with Warren and his music, but that was okay, total enjoyment. Mac did encourage us to purchase a CD from Warren so he would have gas money to get home.
Toby came out and got things started. Mostly playing Momentum stuff but some old favorites from the days of the boys in the bands. The thing that stuck out to me, that Toby said was about no matter how far you may think you have walked away from God, He's one step away in returning to Him. And Toby talked about asking God about making a "worship" album or music but God's answer was that all of his music was worship music to Him. The dancers and back-up singers, it's almost impossible to hit a moving target, try taking pictures of one. Total energy, lots of fun and great crew.
In between set changes and intermission, Tai from Third Day came out to encourage folks to get out and vote. To let their voices be heard. He mentioned President Bush and some folks booed and Tai called them out to say, "you boos are totally uncalled for" and he went on to talk about Christians making a difference. I had read that Third Day was assisting with a "get out and vote" program. They talk about it on their site thirdday.com
Third Day with Geoff Barkley on the keyboards, Mac mentioned Geoff had been with them 5 years. Hard to believe Geoff Moore and the Distance has been gone that long. Occasionally see Roscoe Meek in liner notes in production or support but not sure what the rest of the guys are doing. back to the concert, Mac shared his heart about the great needs of Africa and the HIV/AIDS crisis that is going on there. Mac and the boys team up with WORLD VISION to help the children orphaned and affected by AIDS. And about how we should get out of our pews to help our neighbors and those who Jesus would help. Mac and the band lots of old favorites as well as a number off their new WIRE album, a must have for Third Day fans!
If the bands or tour are coming to your area, highly recommended. Catch the show!
And now on to the pictures and many thanks to Rick from Business Links for the server space. Need a web presence, write Rick for all your web needs!
Oh yeah, who are we, just someone that loves the music, the message, and wants to get the word out about message and the music because the message is in the music. Write to keith@nwcricket.com
Pages of Pictures: Third Day Toby Mac Warren Barfield