Rebecca St. James with Jadon Lavik and Barlow Girls at Faith Assembly Church in Pasco, Washington Feb. 11th, 2006 Sponsored by People For Christ Ministries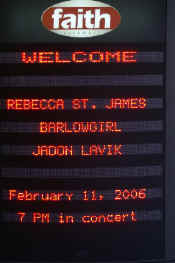 The concert was so sold out that they decided to hold a matinee concert. Faith holds about 1400 and the matinee, with only two days notice, had about 50% filled. And then the main concert was packed out on top of it, a great turnout for the concert. Ticket sales shot up when our local paper did a full page spread on the upcoming concert. Thanks Tri-City Herald!
---
Barlow Girls had the place rockin. Lauren on drums had a great message for the young and old, "stop letting the world tell you want to do and let God tell you what to do". Talk about energy, lots of it with great music.
---
Rebecca St. James took the stage and she brought the whole crew! Two brothers accompanied her on stage and they even had one song just themselves. Another brother on lights did a great job, I would hate to think about all the time put in planning what light comes on when but it was just enough. Not overwhelming but enough to get you to say "cool" ( or nice, rad, neat or whatever you'd say these days). Mom and Dad were in the background (not singing background) keeping things hopping. Dad managing and Mom helping with the merchandise or wherever was needed. And talked with little sis, she helped me with working with another MAC computer. What is it, all these artists using MACs? Most of the family has a part in helping Rebecca on the road.